The Laboratory Department is a critical member of the diagnostic team, providing support to the physicians. Registered Lab Technologists use state-of-the-art computerized instrumentation and perform tests on blood, tissue samples and body fluids. Laboratory services include hematology, serology, microbiology, and clinical chemistry and blood transfusion services.
Outpatient Hours
Open Monday through Friday, 7 a.m. to 5:30 p.m. Closed weekends and holidays.
Fast-Track Lab
Avoid long waits: Preregister and go straight to the lab. One phone call, one stop. You must preregister online or call 337.462.8788 at least 24 hours before the requested service.
Note:Patients must allow 24 hours for preregistration to be processed and activated at the time of service before being treated. Patients must also provide proper identification, insurance information and sign the Consent to Treat and Privacy Policy documents upon arrival.
Monday through Friday, 8 a.m. to 4 p.m. Closed weekends and holidays.
Reserved Parking
Preregistered lab patients now have access to reserved parking on the south side of the hospital.
Accreditation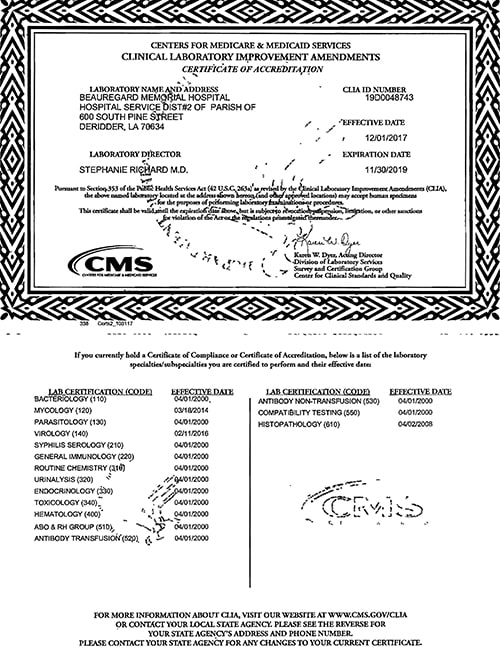 If you notice anything that is a possible quality-of-care or patient safety issue, we would appreciate you bringing it to our attention so that we can correct the issue.
Kandace Williams, MT(ASCP), Laboratory Director
337.462.7119
You are also welcome to make any complaints directly to our accrediting body, The Joint Commission.
Office of Quality and Patient Safety
The Joint Commission
One Renaissance Blvd.
Oakbrook Terrace, IL 60181
jointcommission.org |complaint@jointcommission.org
630.792.5636 (fax)